Amazed by the Annapurna Circuit - Nepal
I'm very fortunate to have been raised in a household that supports an adventurous mindset. Taking a year away from work to travel may seem like a drastic or impulsive decision by some, but fortunately, it came as no surprise to my family. Nearly 30 years ago (in 1993/94) my parents quit their jobs and took a year-long sojourn around the world, so when I approached them to do something similar, they were nothing short of excited for me. Growing up, the walls of our family home were lined with photographs of their travels. Among these wall-worthy photos are my parents sitting in front of the spires in Cappadocia, Turkey, riding camels through the desert in Rajasthan, India, and of Dragons fighting each other for a meal in Komodo, Indonesia. They have been to plenty of amazing places, far and wide, but the destination that captivated me most was the Nepalese Himalayas.

* P.S. If you're mainly interested in the trek itself, scroll down to day 2 (my favourite part of the trip was from days 6- 11)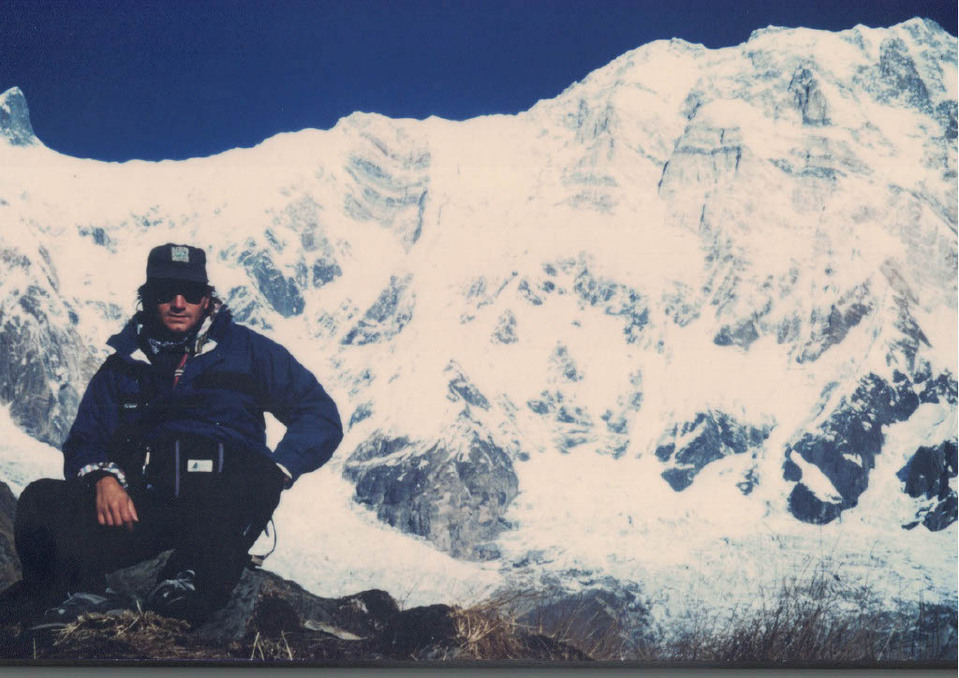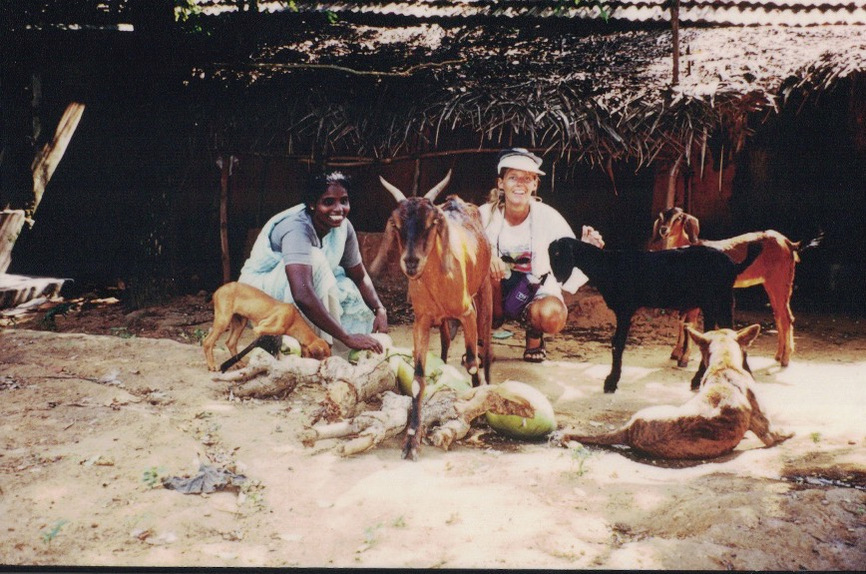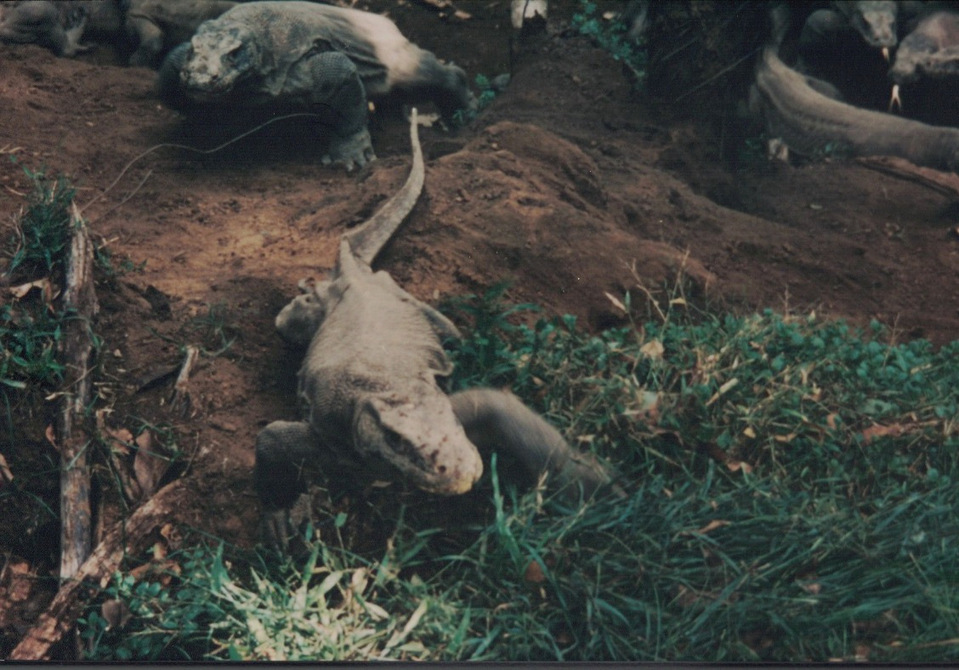 When I committed to taking a year away from work to travel, it was without question that Nepal was at the top of my list of destinations. Specifically, I knew I had to visit Nepal during the month of November, which is known to be the best time of year for trekking (at least in terms of the number of sunny days). I booked a guided trip with Intrepid Travel to complete the Annapurna Circuit, a 15-day journey that would take our group 200+ km through the Manang and Muktinath valleys and over the 5,416m elevation Thorong La mountain pass. I booked this trip in July (five months before my arrival), and thus, it was one of my first goalposts that helped to define where I would go on my year abroad.

As with any great adventure in Nepal, this story begins in Kathmandu. I arrived on October 26th, which to my good fortune, happened to be the second last day of Diwali. Despite the fact that Diwali is a Hindu holiday, I was told that both the Hindus and Buddhists in Kathmandu would celebrate together. On my drive in from the airport, the Diwali lights illuminated the chaotic streets where tourists and locals alike dodged cars while the drivers honked to no avail. After spending my last two months in Europe, the change in city life was drastic.
For my first night in Kathmandu, I stayed at a small hotel in the center of Thamel, which is the tourist district of the city. Upon arriving at 7 pm, I was offered a welcome drink, and then another, and then another. I was tired and a little delirious after a long day of travel, yet, Diwali only comes once a year and I figured I should roll with whatever the evening had in store. Our small drinking party consisted of four Nepalese hotel staff and me. Of the hotel staff, one of them was the owner's son (Hrithik) who told me that he intended to study in Canada, but was unable to secure a visa - a sad reality that many Nepalese face who are trying to leave for a better life. We had been drinking beers and sharing stories for so long that we all had lost track of time. It was now 9 pm and I hadn't checked into my room, nor had I eaten dinner. "Not to worry," said Hrithik, as he ushered someone to prepare curry for us all to eat. The night would only come to a close after copious amounts of beers and food were consumed (we ate the curry with our hands which is the traditional Nepalese way). It wouldn't be until after 2 am that I made it up to my room with my luggage.
The following day, I was invited to spend the night with my friend Terry, who was staying with locals whom he'd been introduced to through a Nepalese-Canadian friend from back home. Terry was also in the midst of a year of travel. He had just completed the Three Passes trek in the Everest region and was sharing some key insights for what would ultimately be my next adventure in Nepal. Terry and I spent the evening sharing travel stories, mine from Georgia and Albania, and his from Pakistan and Vietnam. All the while, I couldn't help but feel a little uncomfortable speaking so outwardly about our "travel problems" and our "bucket list destinations" while in the company of our hosts. The family lived in a relatively affluent house in Kathmandu (by Nepalese standards), yet, despite their status in Nepal, travelling was still difficult for them to do. Their daughter Sayesta was my age, university-educated, and a very confident and smart individual. Regardless of how deserving she is to explore the world, there are many more barriers for her to do so. The Nepalese passport ranks 179th in the world and the minimum wage equates to less than $150 USD per month. I felt that this was another important reminder as to how privilege can distort our perspectives.
I had given myself two days to get acquainted with Nepal before joining my trekking tour — and after spending two evenings drinking and conversing with locals, I don't think I could have drawn it up any better.
Day 1 was the unofficial start of the trek and was mainly spent at a hotel in Kathmandu doing safety briefings. We learned that we would have one head guide (Pemba), two assistant guides (Jebin and Subash), and a handful of porters to assist with carrying our gear. We would also be following a fairly tight schedule, with pre-set lunch and sleeping locations. We were advised to be in good hiking form before our arrival and told that we would be completing questionnaires twice a day to keep tabs on our health (including a device used to track our blood oxygen levels).
I am normally not one to sign up for a group tour. I much prefer being on my own schedule and seeking out some peace and quiet while in nature. That being said, with my limited experience at high altitudes, I thought it'd be wise to have the security of a group of experts by my side. The added bonus of this group tour was that we had porters to carry our gear (something I was prepared to do), guides to share some cultural / historical anecdotes, and the same group of lovely individuals to play cards with each night
* Each day of the trip, I will be highlighting one of my peers from my hiking group.
_____
Day 2 was the actual start of the trek. We departed Kathmandu at 6 am to begin the six-hour drive to Besisahar, which is where we would start hiking after lunch. However, nothing is a certainty in Nepal, especially on the roads. And to our misfortune, a landslide had wiped out the main road into Besisahar and the alternate route was to take a steep and narrow descent into the valley where two trucks had already gotten stuck. This alternate route had delayed us for the better half of two hours, thus putting our group in a race against the clock to arrive at our camp in Ngadi before dark. Luckily, we only had a modest 13km to hike, and with a brisk pace, we would make it to Ngadi without having to turn on our headlamps.
* Matt was my bunkmate throughout the duration of the trip. Originally from Australia, Matt now lives in Manila, Philippines where he was providing accounting training to new local hires at his company. The firm had the aim of being a cheaper solution for businesses that were looking to outsource their accounting practices and Matt was a core part of their success. Matt has a good sense of humor, is a big Aussie X fan, and was a very easygoing bunkmate.
On Day 3 the group trekked from Ngadi to Chamje, walking for 22km with over 1,300m of elevation gain. From an outside perspective, this would be considered a big day, however, this was simply training for us. The real tests lay ahead for when we would be hiking similar distances at higher altitudes. What surprised me most in these first few days was how lush and tropical the climate was. The forest was jungle-like with dense vegetation lining the mountainsides and waterfalls cascading down the steep cliffs. Because we started the trek in Besisahar at just 760m, we got the chance to appreciate the rice paddies, waterfalls, and general biodiversity of the lowlands.
* Emily is from Denver and was one of two Americans in our group. She was also the nearest in age to me at 27. Emily is an avid hiker and ultra-lightweight enthusiast so we spent the day conversing about some of the various treks we had done. She has completed sections of all three of the three main hiking routes in the US (the Pacific Crest Trail, the Appalachian Trail, and the Colorado Trail). Emily also told me about a remote five-day trek she did in Greenland. Aside from hiking, Emily works on a cargo ship that transports high-value vehicles and helicopters overseas. She's currently an assistant to the captain but was not far away from being promoted to captain herself. Because of her job, Emily spends an average of eight months a year working out at sea and has the other four months of the year off as holiday time.
On Day 4 we continued along the same valley, covering 17 km and 1,100m of elevation gain to arrive in Dharapani. Upon our arrival, dinner menus would circulate and we quickly understood that our food options would be limited to the same 3-4 items everywhere we went. To make matters more interesting, I opted to go vegetarian during the trek. This was a decision I made to avoid food poisoning, but was also a new challenge for me as I had never attempted to go vegetarian before. Realizing how much more food I was capable of eating without meat, I would order the traditional Nepalese dish "Dal Bhat" at least once per day. Dal Bhat is a combination of rice, curry, lentil soup, and some vegetables. It was also the only food option that was nationally recognized to have unlimited refills.
* Priyanka was born in India but moved to New Zealand at a young age. She brought a lot of energy to the group and was also capable of speaking Hindi which most of the locals could understand due to the presence of Bollywood movies in Nepal. Priyanka went to school to become a doctor, however, ended up taking a part-time job as a flight attendant, and now, twelve years later, she hasn't looked back! Because of her job, she has had the luxury of traveling to many places and generously gave me some advice on where to visit while in Japan.
On Day 5 we hiked 19 km from Dharapani to Chame at 2,650m. It was also on this day that we would finally exit the narrow Marsyangdi River Valley and get our first glimpse of some of the snow-capped peaks in our vicinity. First, Manaslu would show its presence, which at 8,163m is the eighth tallest mountain in the world and the second tallest we would see throughout the trek. Manaslu is also the mountain that tragically took the life of Hillary Nelson just one month prior in an avalanche. Hillary was a very celebrated skier and alpinist who was attempting to be the first person to ski from the summit with her husband Jim Morisson. In addition to Manaslu, we also got our first view of Annapurna II (7,937m).
* Rachel was also from New Zealand and was a friend of Priyanka's. This was her ninth trip to Nepal and she was the impetus for her friends to join this time around. Despite Rachel's frequent visits to Nepal, this was just her fourth time trekking here. The focus of her previous trips had been to do volunteer work at a children's home in Pokhara where she had planned to visit at the end of the trek. Rachel always had time for a good laugh and often hung out at the back of the group making jokes with our assistant guides.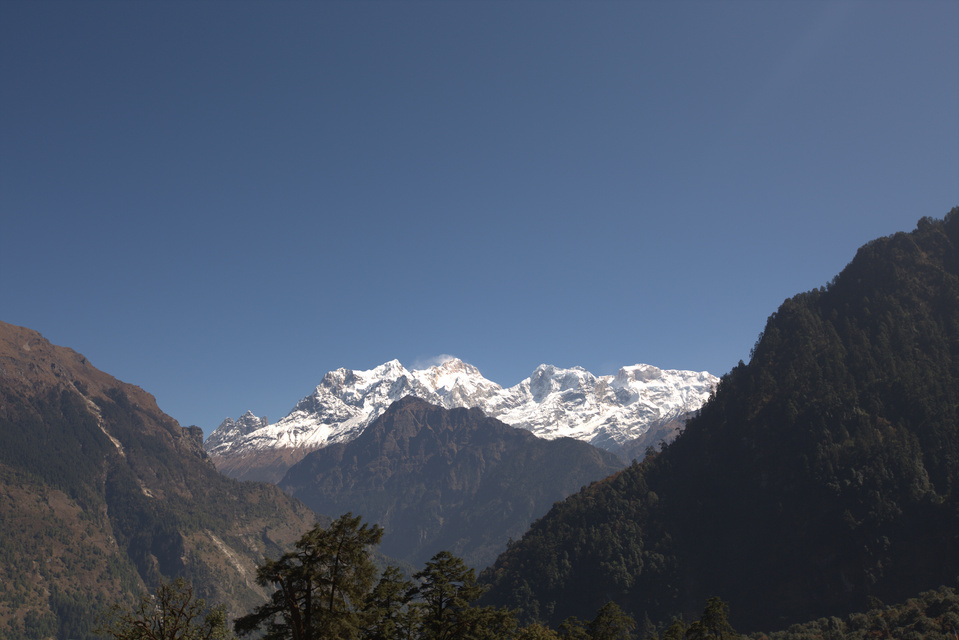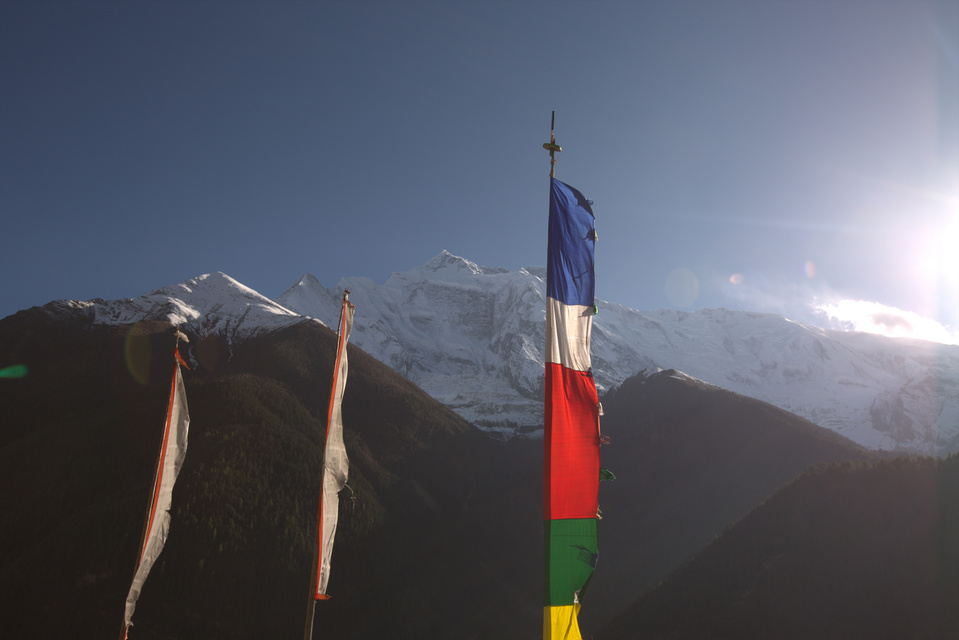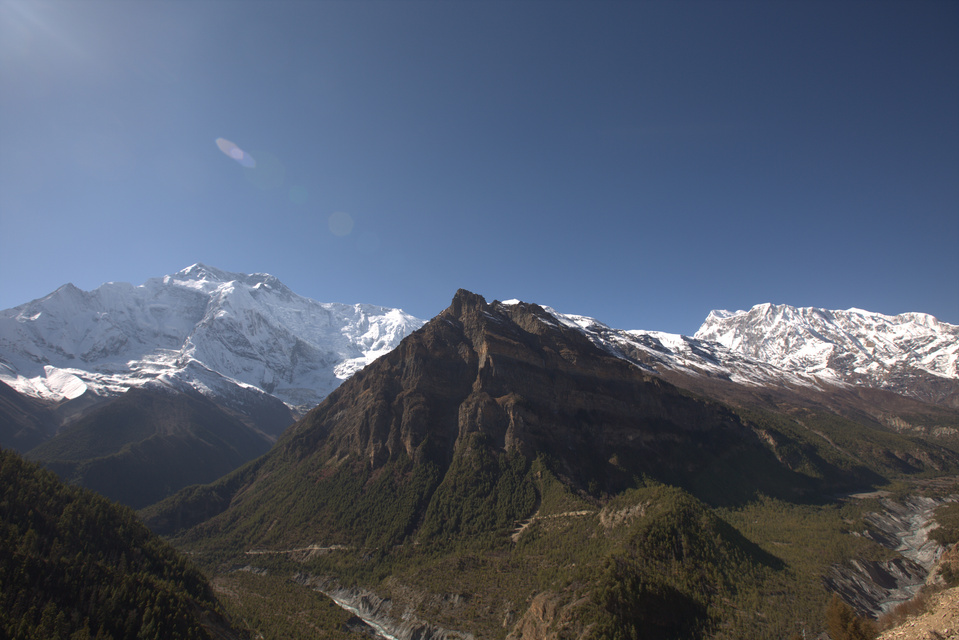 Day 6 is when the beauty of the Manang Valley really came alive. We hiked 20 km from Chame to Lower Pisang which presented some really impressive views of Annapurna II (7,937m) and Annapurna IV (7,525m). During our lunch break, a local kid was playing on a tricycle - riding in circles and giving us all high-fives. I thought to myself how strange it must be to grow up in a village with hundreds of strangers passing through each day (most of whom do not look like you).
Because of the prevalence of Buddhism in the Manang Valley, the local people are quite spiritual. As we trekked through villages, the locals would greet us by bowing and saying "Namaste" - a very welcoming and calming gesture. In return, we would treat their backyard with the utmost respect and try our best to become more in touch with their culture and religion. Whenever our group passed prayer wheels, we would all take a turn walking alongside spinning each and every one of them. And when walking past a stupa (a round Buddhist monument), we would ensure to keep the monument to our right, even if it meant going the long way around (a Buddhist superstition).
* Kelly was the other American on our tour. She was born in Chicago but has worked in politics throughout her career bringing her to D.C. and to San Francisco. Kelly attended Harvard University for her undergrad and worked in the White House for five years during Obama's presidency. She told me many stories from her time at the White House, including the various celebrities that she got the chance of meeting, the likes of Bradley Cooper, Lady Gaga, and Zach Galifianakis. After Zach Galifianakis' "Between Two Ferns" episode with Obama, she was responsible for keeping the ferns alive.
On Day 7 we would finally reach Manang, the largest village in the valley with over 6,000 inhabitants. We hiked for 20 km from Lower Pissang stopping frequently for tea and to take in the views. It was also on this day that I also decided to start taking altitude pills (Diamox). I was hoping to do the trek without taking them, however, I started to get a headache as we approached Manang at 3,519m. I also had some other minor symptoms of altitude sickness, including dizziness and loss of appetite. Once we got to Manang, I took some Ibuprofen, Diamox, and had a nap which significantly improved my condition.
* Ben and Amy are siblings who were doing this trip as a 40th birthday present to one another. Ben and Amy were both born in Tasmania, however, they now resided on the Australian mainland. Ben lives in Sydney and works as a doctor specializing in oncology and palliative care, while Amy lives in Canberra and works as a surveyor. Amy is a mother of three who takes pride in living an active lifestyle and being a role model for her kids. Throughout the trek, she never seemed to struggle despite being the only one to not have taken Diamox. Ben was also a father of two. He shared with me his philosophy on giving his kids allowance, which I thought was ingenious. Each week, his children would get the amount of money that corresponded to their age, however, one-third of this money would go to savings, one-third of this money would go to charity, and the remaining third was for spending at their discretion. Ben and I were also the only ones who would wear shorts each day throughout the trek, taking pride in our hardy Canadian and Tazzy blood.
Day 8 was an acclimatization and rest day. The objective destination was to reach a monastery located 400m above Manang where a 76-year-old nun lived. Once we arrived, we learned that the nun has dedicated her whole life towards enlightenment, following suit from her ancestors who have occupied the monastery for over seven generations. Given her age, she does not leave the monastery and relies on the community to bring her food and other resources at nearly 4,000m. Before we left, we each received a bracelet and her blessings for safe passage over the Thorong La Pass.

* Nikul and Rupali are a couple and also friends of Rachel. Nikul is originally from Fiji where he lives and helps to run a family retail business with operations in Fiji and Papa New Guinea. Nikul enlightened me on some interesting Fijian history throughout the trip. Unbeknownst to me, there have been two coup d'états in Fiji during my lifetime (2000 and 2006). Rupali is from New Zealand but now lives in Fiji with Nikul. She works as a dietitian and does online sessions for clients back home.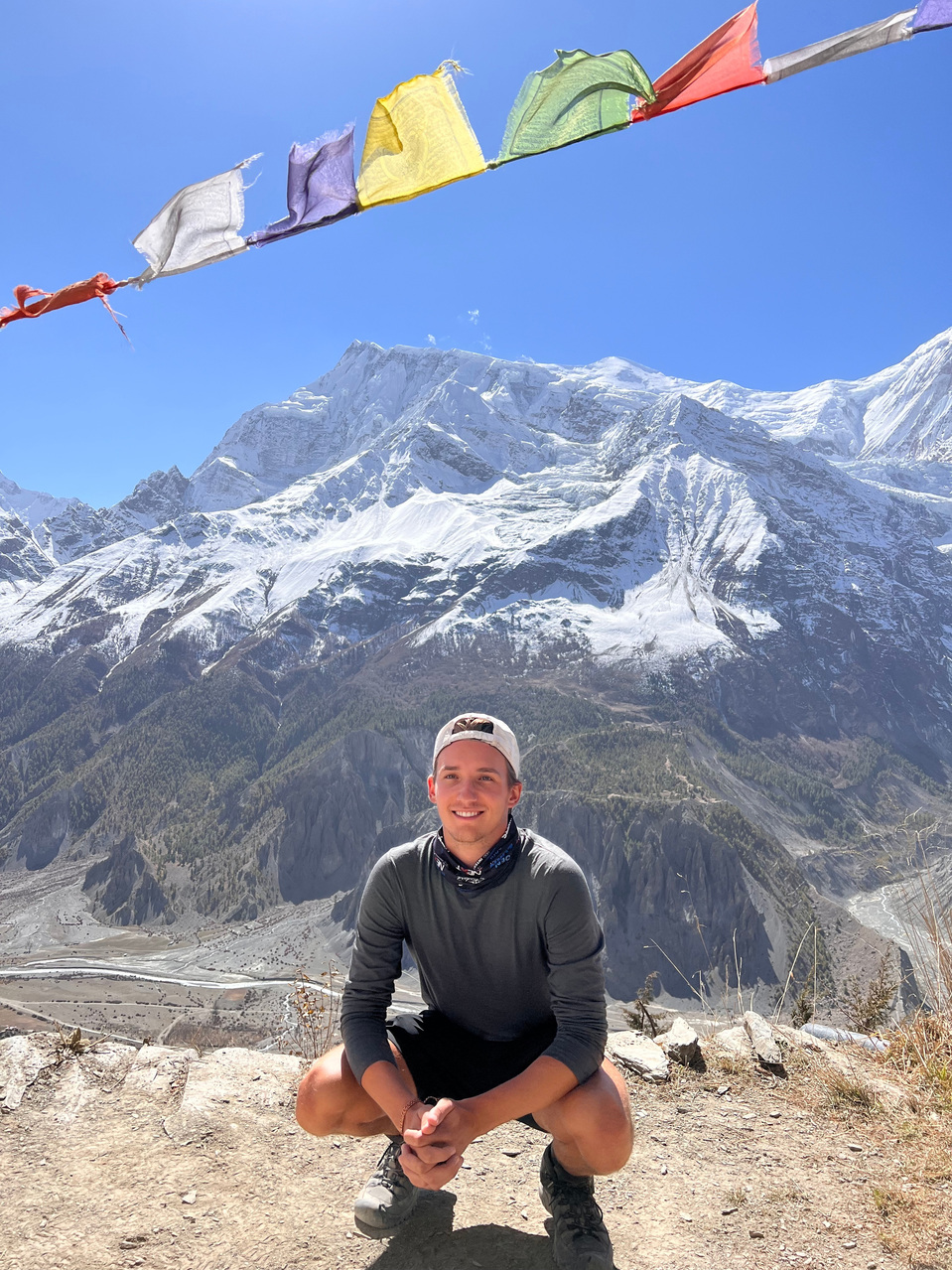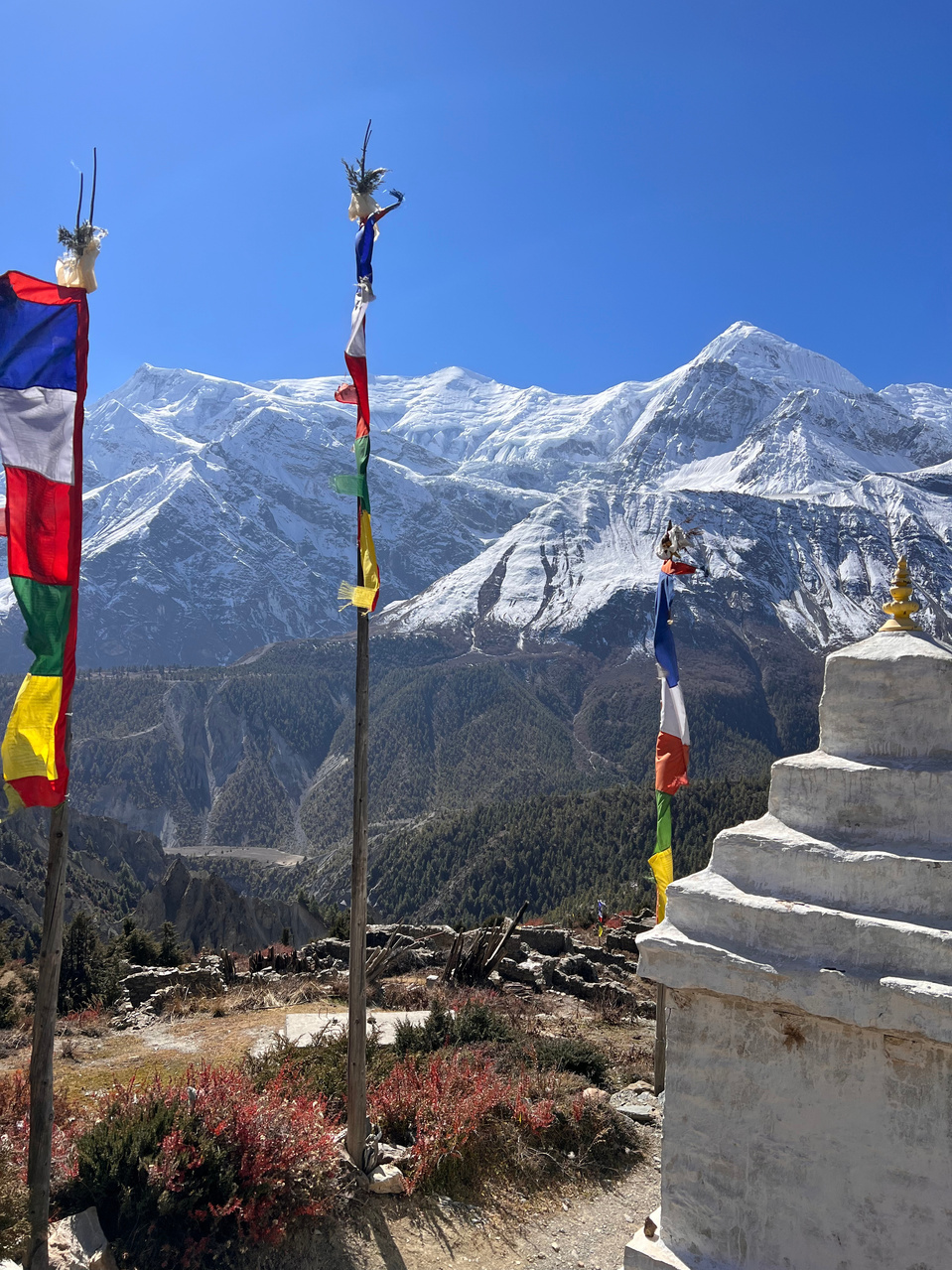 Days 9 and 10 were both relatively short in distance. Our teahouses were just 10 km apart from one another, but we would gain ~500m of elevation both days between camps. On day 9 we stayed in Yak Kharka at 4,000m and on day 10, we spent the night in the trekkers' town of Phedi at 4,500m which was our highest altitude accommodation of the trip. As you might imagine, the amenities at this altitude are very basic. For both of these nights, we would have no access to the internet, no access to power to charge devices and no access to hot water for a shower. The temperatures at night would be so cold that if you left your water bottle sitting out, it would freeze. After a quick pep talk from Pemba, we all headed to bed early, curling into our sleeping bags with many extra layers on.
* Chiara and Alison are high-school friends from Australia who always brought a positive attitude toward the day ahead. Chiara worked in marketing and had spent a portion of her career abroad in London. Meanwhile, Alison worked as a phycologist for people who develop schizophrenia later on in life. These two rounded out our amazing trekking group - a group of very diverse working professions and ages.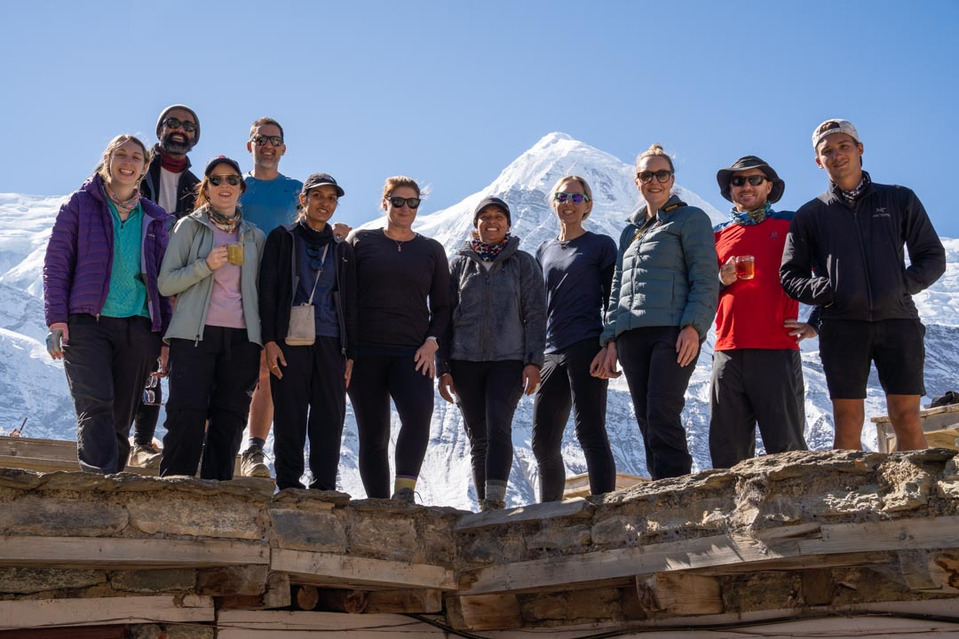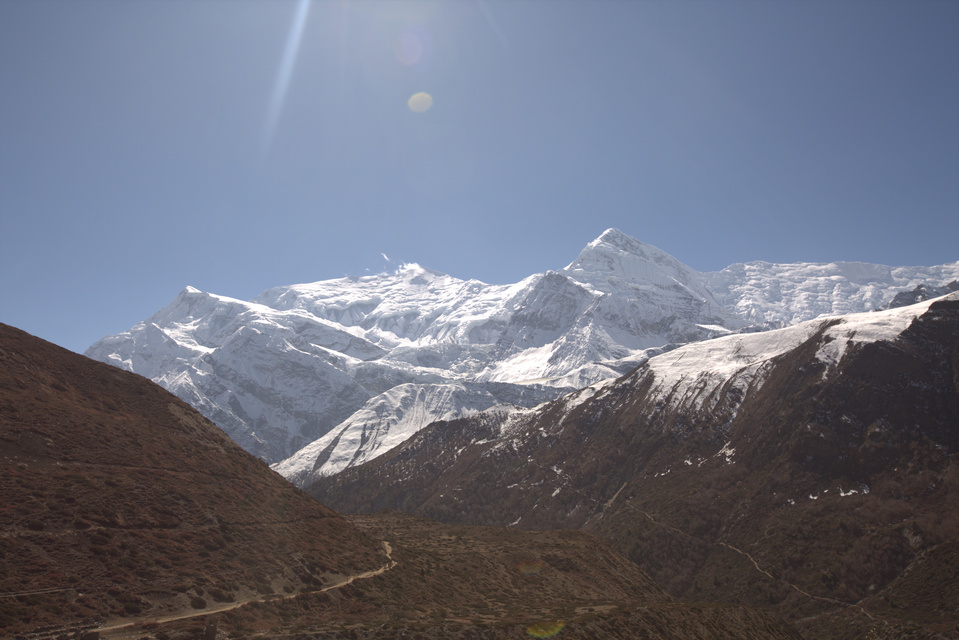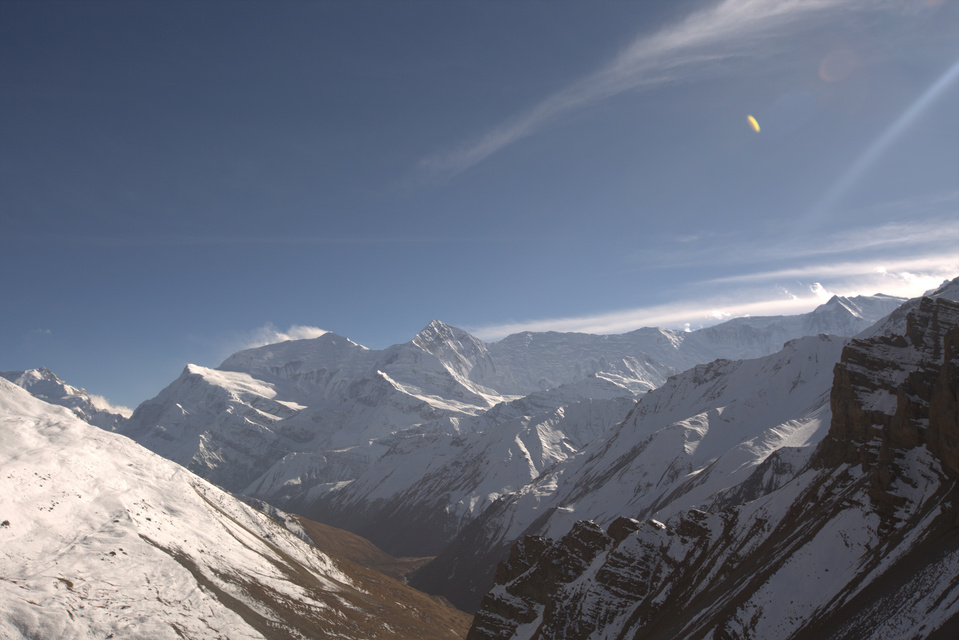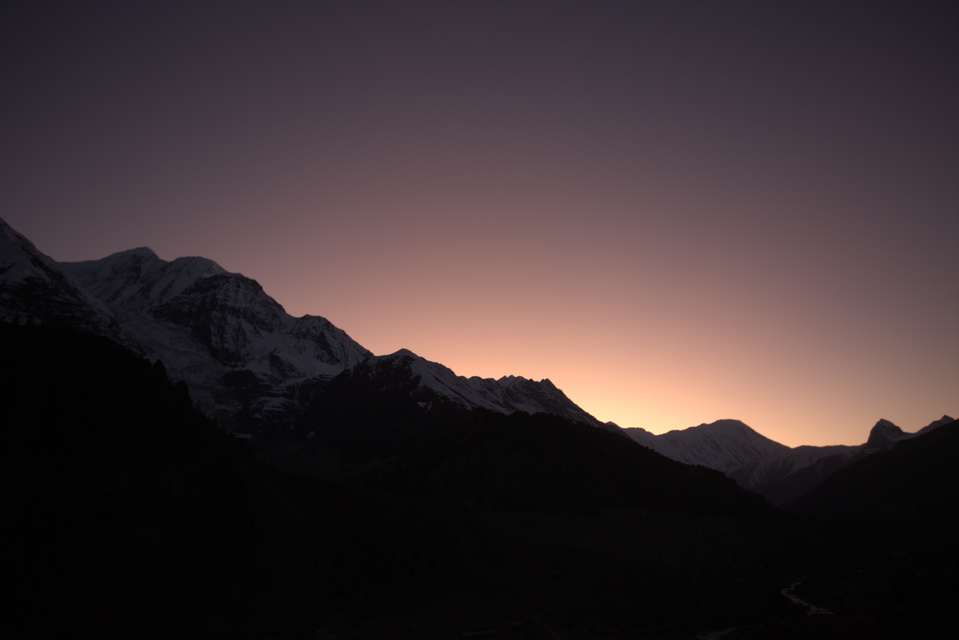 Day 11 was the culmination of the trek. We would leave our tea house at 3:30 am with the objective of crossing the Thorong La Pass (5,416m) in the morning, taking advantage of the colder and typically clearer mornings. On the ascent, I personally found the main difficulty to be with the temperature. Hiking at this elevation, our group moved very slowly, making it difficult to maintain body heat. My hands were so cold, that I had to drop my hiking poles and keep my hands in fists. About halfway up, the sun would begin to shine and the group's morale lifted significantly. Ben and I would even transition back to wearing shorts. And finally, after a difficult six hours, the entire group made it atop the Thorong La Pass - an incredible achievement!
* Pemba was our head guide. Ethnically, he is part of the Sherpa group of people, which means that he is from the Everest region (to the east of Kathmandu). As with most experienced guides, Pemba was an expert at managing group expectations. He took safety very seriously and gave briefings each evening for what to expect the following day. In true Nepalese fashion, he would almost never say how far away we were. We were always "close" whether our destination was 2km or 10km away.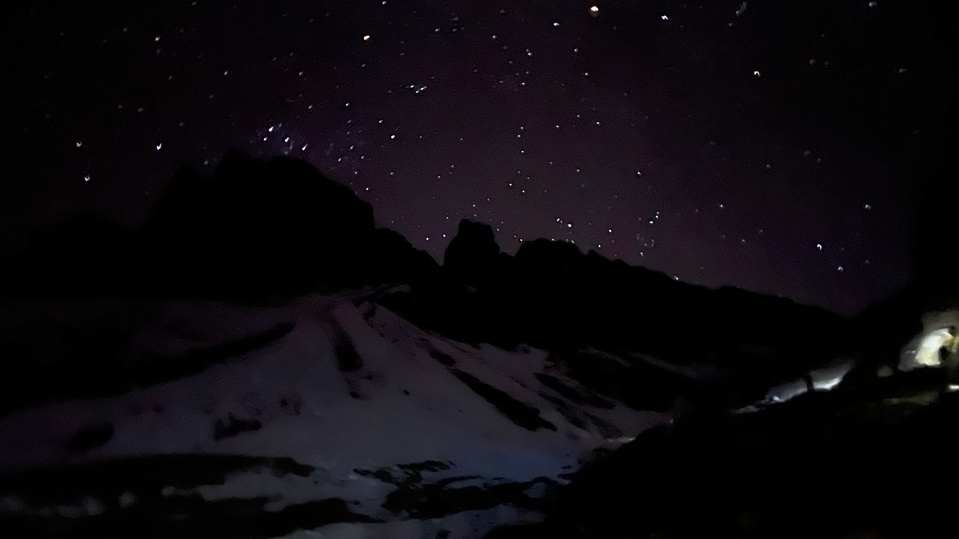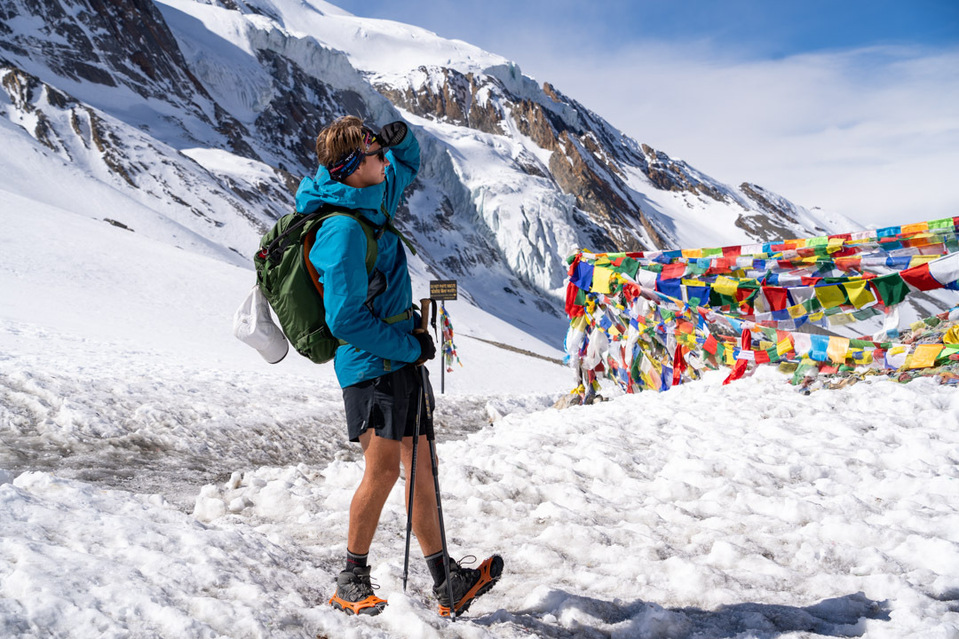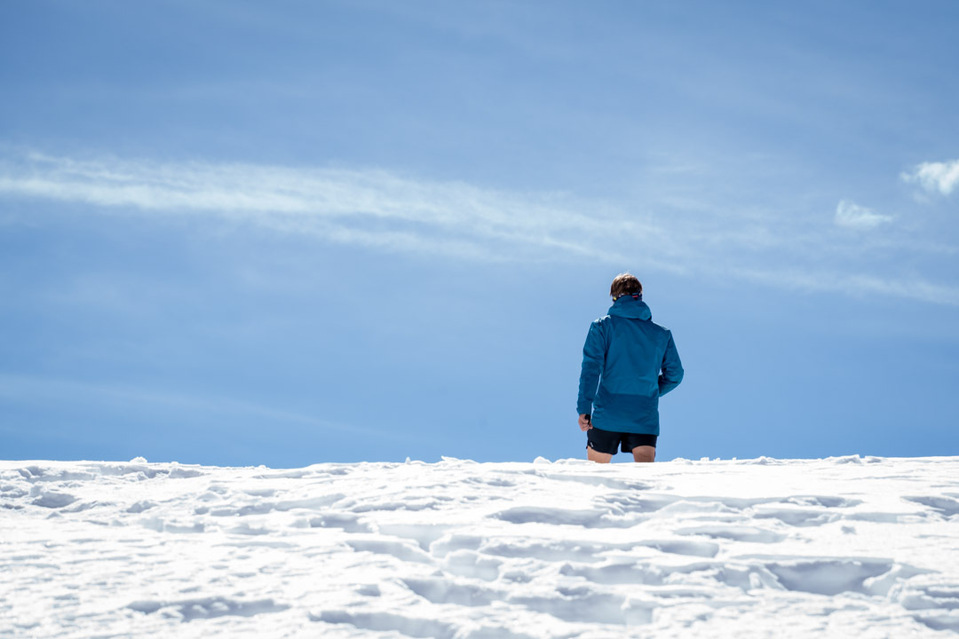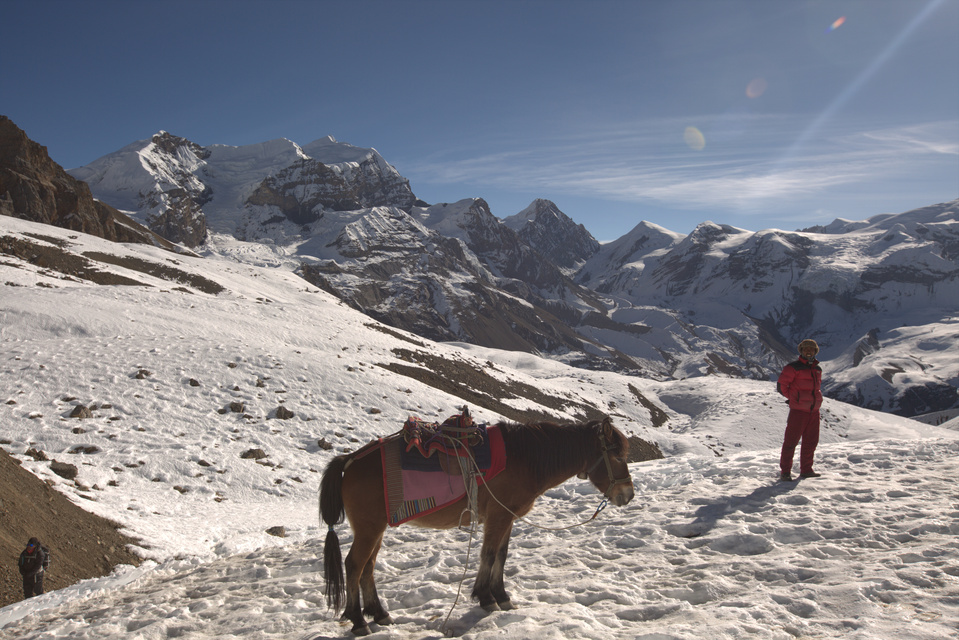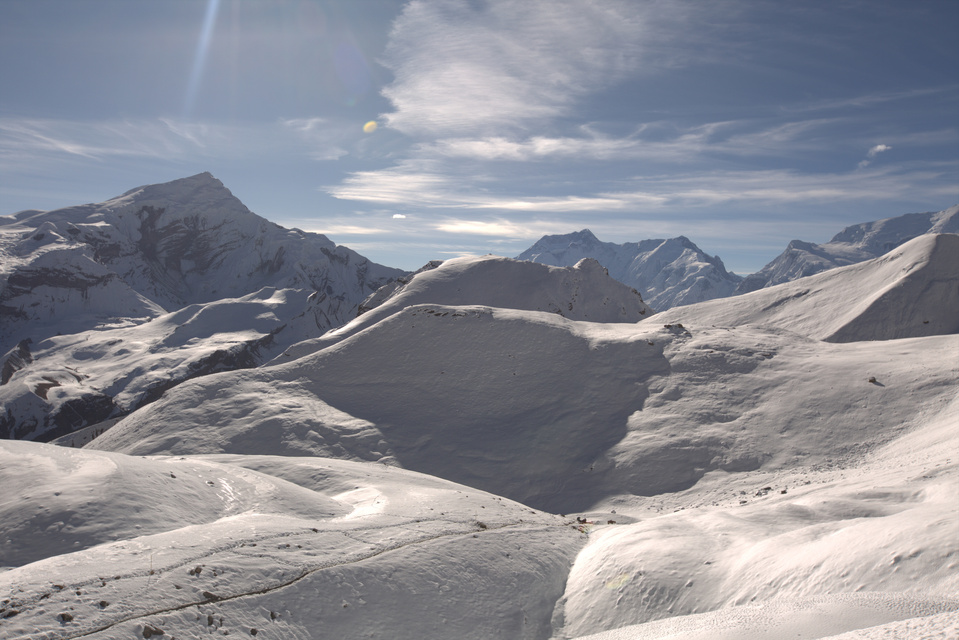 Day 12 began in the town of Muktinath which is a major Hindu and Buddhist pilgrimage site. We took some time to walk around the famous Vishnu temple and watch as the pilgrims would bathe in the freezing cold pools of water. We were also taught about how 108 is a sacred number in both Hinduism and Buddhism. This temple is regarded as one of the 108 Divya Desams (a designation given by the Sri Vaishnavism sect) and is the only Divya Desam located outside of India. The outer courtyard of the temple has 108 bull faces while the sacred water pours from 108 separate spouts. We would also see the prevalence of the number 108 in other villages, most commonly being the number of prayer wheels in a row.

This day would also be our last day of hiking. The Muktinath Valley is much different than the Manang Valley. It is far more arid and known for having strong winds. Additionally, the trail on this side of the valley is mostly along the roadside, making for less pleasant walking. As a result, most trekkers opt to finish the Annapurna Circuit in either Muktinath or Jomsom, which is what we did. Despite these conditions, the valley is absolutely stunning. We hiked 12km down to Jomson while overlooking Dhaulagiri (8,167m) which is the seventh tallest mountain in the world and the tallest we had seen to date. We would celebrate the culmination of our hiking with drinks and some dancing in Jomsom. Our porters, most of whom didn't speak English, brought most of the energy and dance moves.
* Jebin and Subash were our assistant guides. They were both much younger than Pemba and brought an abundance of energy each day to keep everyone's spirits up. It was evident that they both took pride in their jobs, helping out wherever they could with a smile. Jebin also had more local insight into the Annapurna area and was our go-to guy to explain various cultural and religious minutiae.
On day 13 we got up early for a 6 am flight out of Jomsom en route to Pokhara. The morning sky was clear and made for some beautiful aerial views. A few new peaks would come into view this day including Annapurna I (8,091m) and Machapuchare (6,993m) which is famous for its shark fin-like appearance.
Days 14 and 15 were still technically part of the tour, but we would remain stationary in Pokhara, taking in the sights and energy of Nepal's second-biggest city. There seemed to be a buzz in the air. Tourists had either just finished a trek or were excited to pack up and leave on their own. Regardless of their plans, it seemed as though everyone was just happy to be there.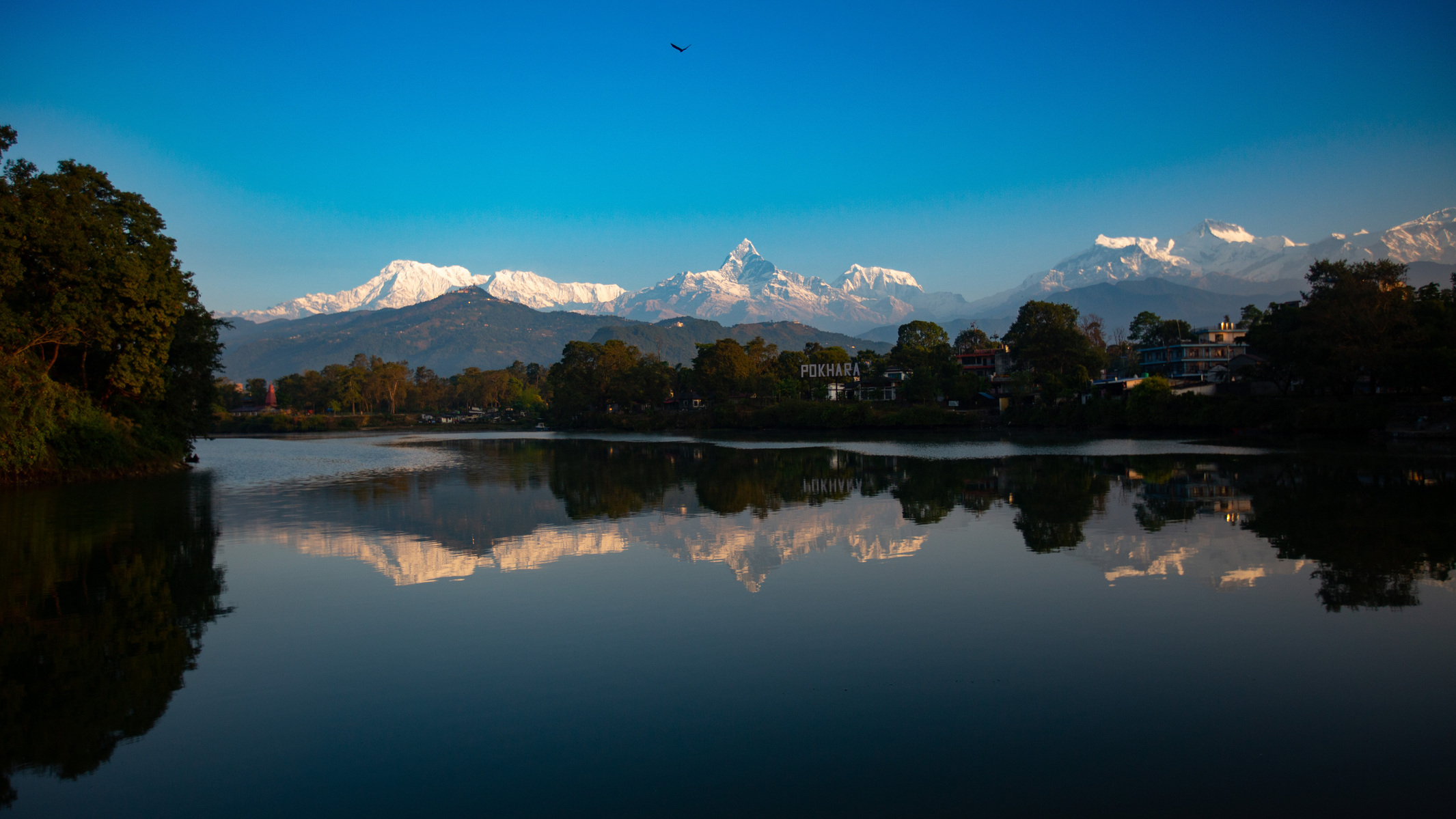 I spent these couple of days reconnecting with family and friends (something that was hard to do in the mountains). I would also take the opportunity to go bungee jumping, my first time doing so.

Overall, this was a trip of a lifetime. Our group didn't encounter any poor weather (in fact, we didn't even see a single cloud), and everyone remained in good health and spirit throughout. Moreover, I felt that I made some good connections. I was the youngest one in our group, with most of the others being in their 30s or 40s. That being said, I welcomed this age gap. During a year of travel, I was mainly staying in hostels and conversing with a similar demographic to myself. It was very refreshing to spend some time with career-driven individuals with whom I could learn from.
After the group tour was over, I was feeling in some of the best physical shape of my life. Despite the difficulty that the Annapurna Circuit presented, I felt that I was capable of much more. And with this mindset, I began planning my next adventure within Nepal. It was going to be a 20-day self-guided trek in the Everest region. I planned on reaching four basecamps (including Everest), summitting three trekkers' peaks over 5,500m, and hiking across three high-altitude mountain passes. The blog post for this next adventure will be released as soon as possible!